DREAM, BELIEVE, LET'S MAKE IT HAPPEN! The greatest feeling in the world is seeing your horse cross the finish line in first position. Words just can't describe it.
As a shareholder in a Flying Start racehorse you can enjoy all the perks of owning one outright at a fraction of the cost, but with all the thrills.
We know that being well informed on your horse's progress and plans is crucial to your experience. That is why we have systems designed to keep you well in the know. Frequent emails, photos, newsletters, audio files, videos, phone calls and text messages are our primary forms of contact.
As a Flying Start owner you're encouraged to watch your horse at trackwork and visit the stables or spelling farms.
On race day you can expect a ticket into the Members' Area along with an Owners' Pass to get 'up close and personal' with your horse, trainer and jockey in the mounting yard to get the late mail!
You and your fellow owners will also have opportunity to lead your horse back to the winners circle after a win for that much sort after photo.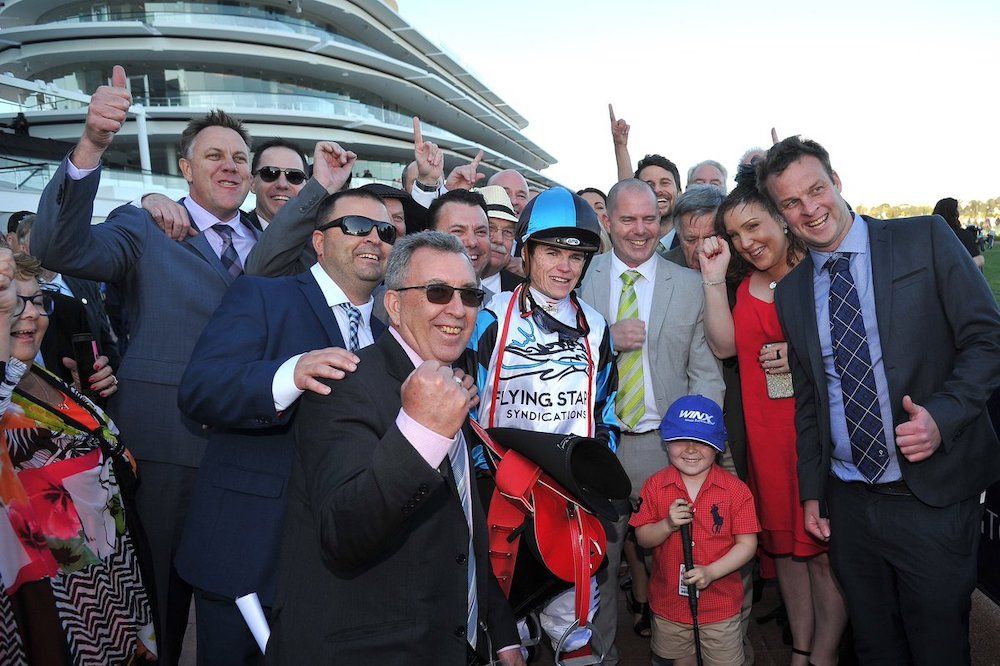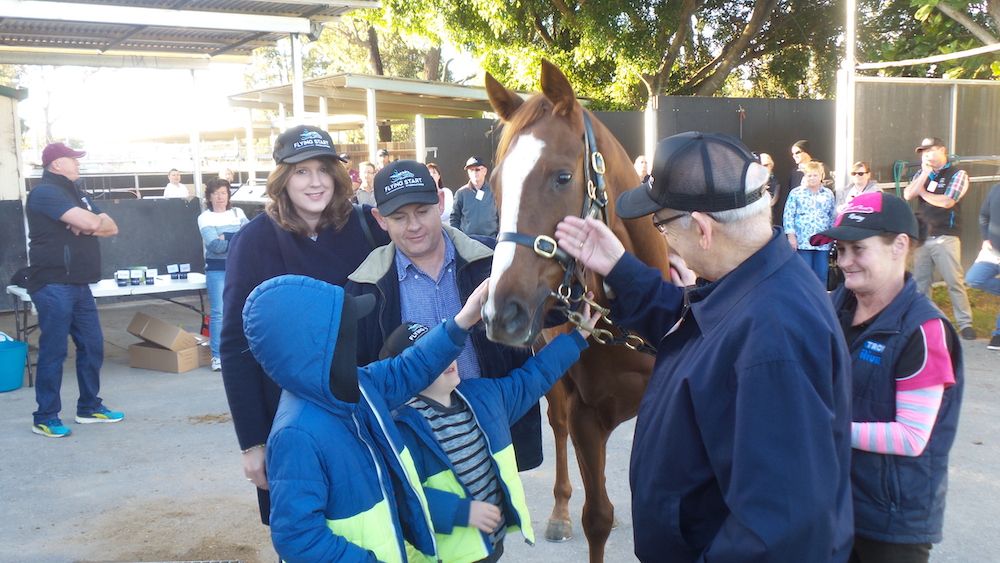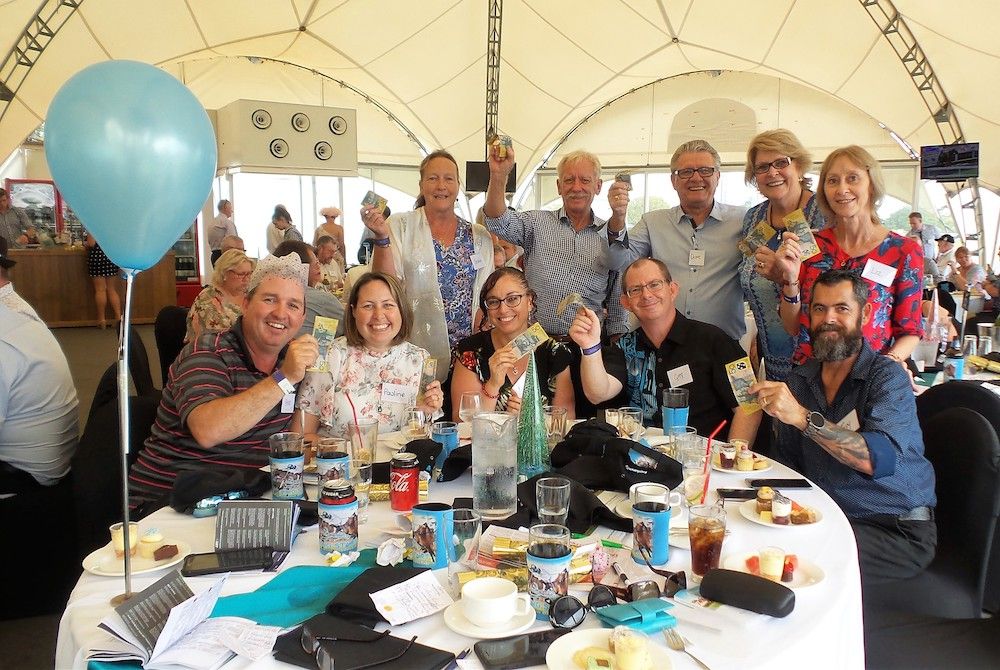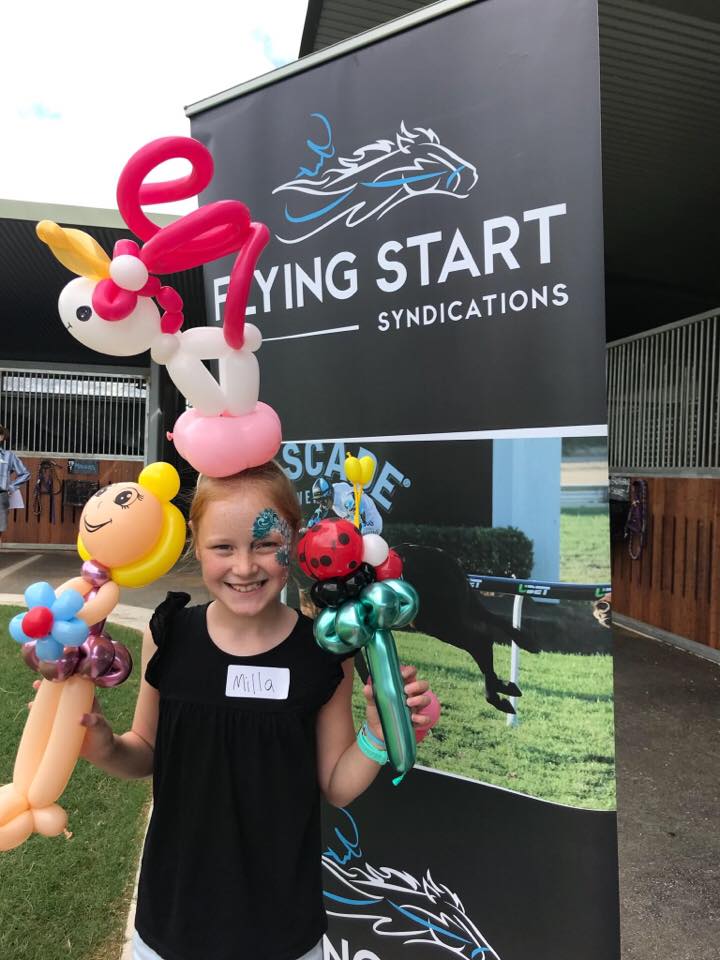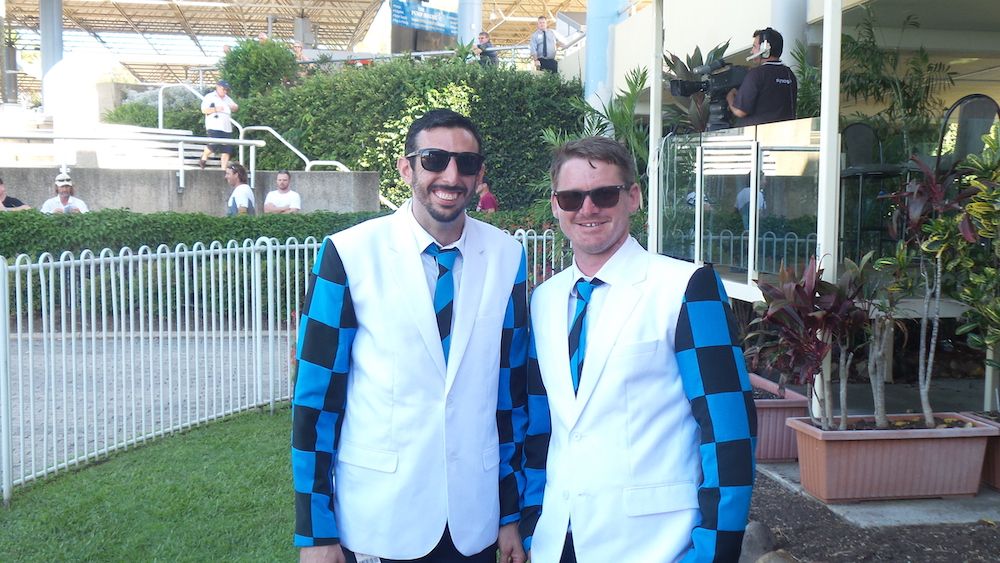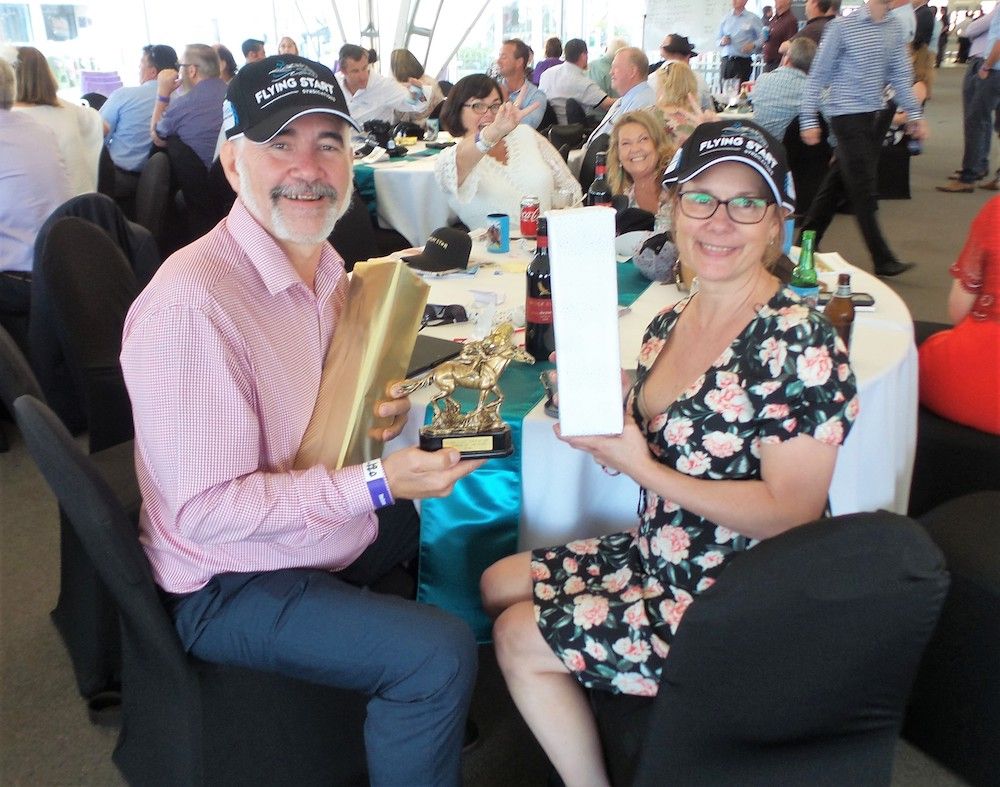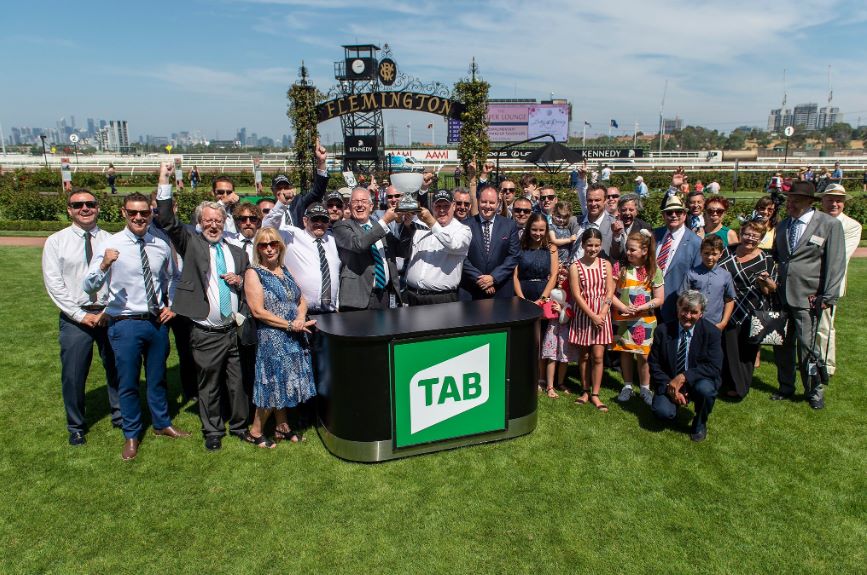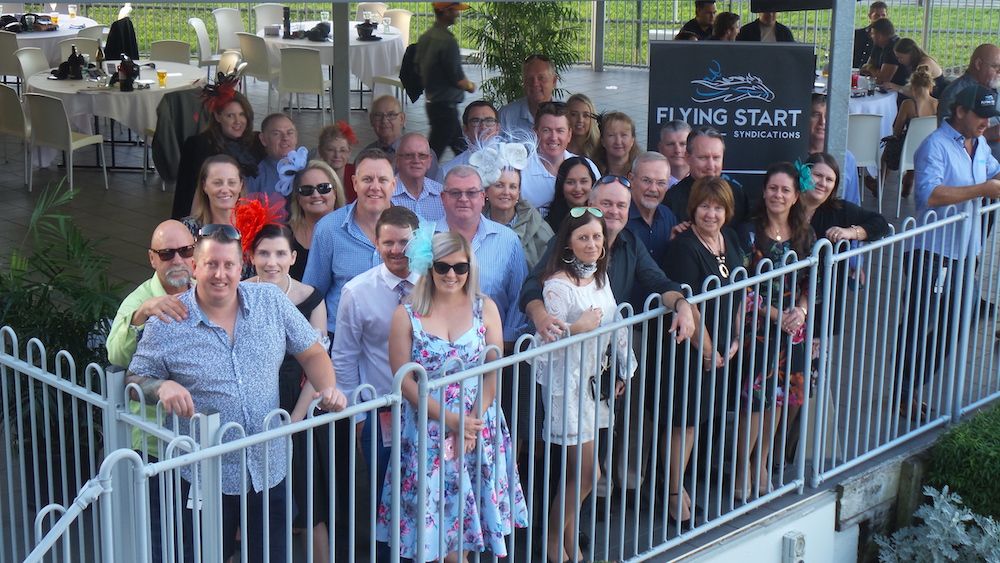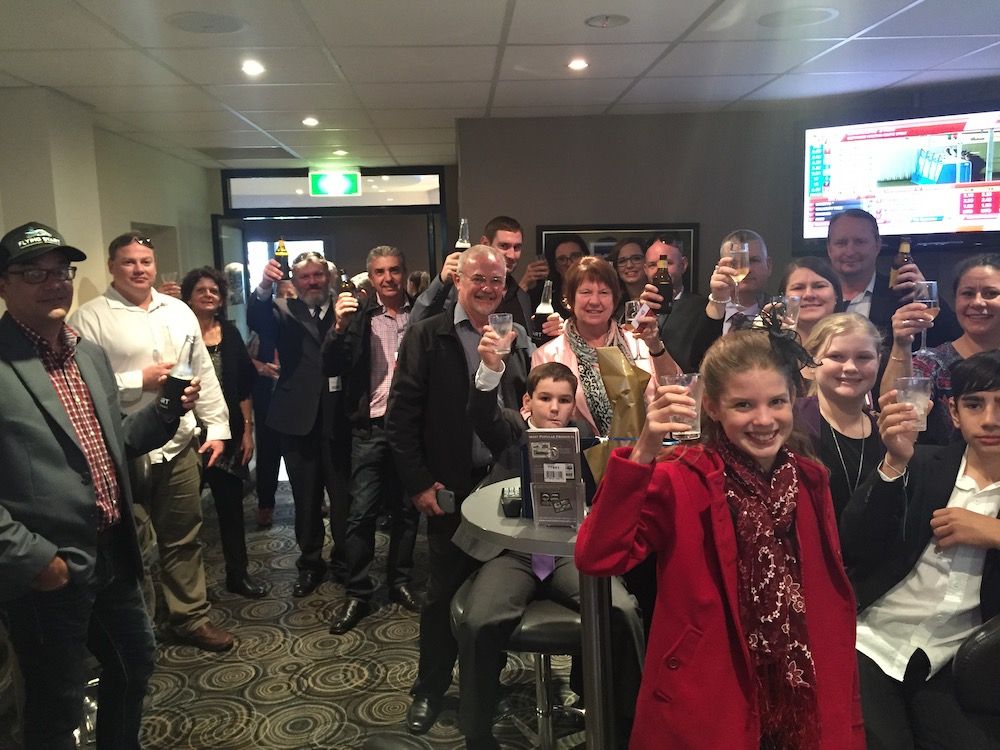 I just wanted to pass on a very big and sincere thank you for the fantastic day you put on at the Sunshine Coast Races. The day was a very big hit and really showcased how the small time owner can get involved in the racing game and feel very much apart of the action and the whole racing community.
Having raced horses since the early 80's in big syndicates and small partnerships I would like to commend you and the Flying Start team for not only the professionalism in which the syndicate is handled but also the way that Flying Start have gone above and beyond by delivering a total Sport of Kings experience.
The regular updates and video reports are fist class and keep us well and truly in the picture of our horse's progress. The stable talk videos interviewing the trainers and post race with the jockeys are also well received.
Sunday's race day followed hot on the heels of the fine day you organized for syndicate members visiting our horses at the stables, meeting the trainer followed by the Stud tours and lunch at the winery.
On both of these occasions it was great to meet fellow owners of some of the Flying Start stable and now we have new friends with common interests.
Cameron, both Heather and I thank you once again for the experiences to date and can't wait to see you in the winner's circle.
Well done mate!
Steve Clarke
Just wanted to say a big thank you to Cameron and the Flying Start team for making us feel so welcome. We are both first time owners and Cameron has made us and our families feel so welcome and valued. Our whole family visited the stables of Rob Heathcote recently and we all felt very welcome and had a great time.
The way this has experience has been so far we have no doubt we will continue the relationship with Cameron and the Flying Start team for a long time to come.
Thanks again it has truly been an amazing experience so far and looking forward to what the future holds.
Greg and Brad Dimmick
Since I've been with Flying Start Syndications I've had a great time.
Meeting other syndication members at an open day at Robert Heathcote's and bus outing around two stud farms and lunch at a winery.
Flying Start is tops keeping all syndication members up to date and any thing you need to know Cameron Bennett is only a phone call away. 
It's professionally run, get a share in a Flying Start Syndication horse and have fun along with us when your horse runs
meeting other syndication owners at the races and other activities I highly recommend."
Robin Penfold
Thanks so much for the quality and the effort you put in, to keep us up do date with where the horses are at. The recording of the trials and just the prompt updates with noms and weights is just first class. Now all we need is a bit of luck a few winners and a long association.
Thanks Again!
Gary Greedy
Dream, Believe, Let's Make it Happen!