We Need Your Vote so Amphitrite can Star on the Big Stage!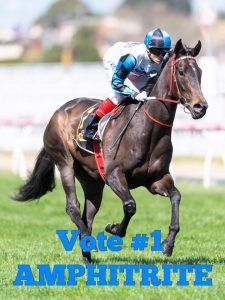 Be a part of $5 Million dollar The All-Star Mile by voting for our Group 1 winning filly Amphitrite. The inaugural race is to be run for the first time at Flemington racecourse on 16 March 2019.
It will be the richest mile race in the world and is the only race in Australia where you vote for the horses that you want to see run.
Amphitrite is currently sitting 7th on the Leaderboard – but with only 10 public voted horses going through we still needs lots of votes to secure her spot.
The All-Star Mile voting comes to a close on the 18th February so you only have a couple of weeks to make your vote count.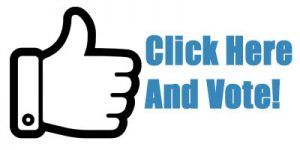 Karaka Sales Review and Purchases
Competition Time – Win One Month's Free Training Fees*
Stable Stars
Horse Racing in Jamaica
Upcoming Runners
Amphitrite does us proud in the All Star Mile!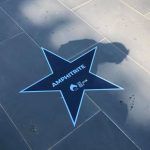 Memories from the 16th of March will live on in the hearts of all of Amphitrite's proud owners as being the day she lined up to compete in the richest mile race in the world.
It was an incredible day and the vibe around Flemington was electric especially in those minutes leading up to the start.
Sadly she didn't have the best of luck in running but finished a strong 6th in what was a star studded field.
Syndication Opportunities
Stable Stars Getting Ready to Race
Snap The Cap Winner!
Upcoming Runners
It's beginning to look a lot like Christmas!
As we head towards the end of another successful year – the team at Flying Start Syndications would like to wish all of our owners, followers and their families – a safe and happy Christmas and a wonderful New Year!
We certainly have had lots to celebrate this year. Our first Group 1 and Group 2 winner in Amphitrite, 20 individual winners and 30+ placegetters. We have welcomed many new owners over the past 12 months as well as having had the continued support of so many of our loyal clients.
Racing is a wonderful sport to bring people together and I have no doubt many new friendships have been made along the way as well this year.
It's now time to start looking forward to 2019 and there is no reason to believe that it won't be even bigger and better than this year has been.
Merry Christmas from Cameron, Kim, Chloe, Michael and Justin.
Gold Coast Christmas Race Day
Flying Start Owners of the Year
2019 Yearling Sales
Syndications
Upcoming Runners
Punters Corner
BOLD CHANCE WINS AGAIN!
Rob Heathcote had Wendall simply glowing in the coat. He sure is one happy horse who always gives 100%!
Wonderful to see Bold Chance score another win for his owners. Having only his 4th start since joining the Flying Start team and the Rob Heathcote stables, he has now had 2 wins and a close second. He has already earned for his delighted connections over $73,000 with plenty more to come if this win is any indication.
The tricky Toowoomba track can often bring first timers undone but
Bold Chance handled it with ease and although perhaps getting to the front a little early, kicked away to win strongly on the line.
We will look now to give him another run in the coming weeks with lots of options moving forward.
Congratulations to all his owners on a tremendous victory.
AMPHITRITE aims for another Group 1 win
Syndications
Upcoming Runners
Punters Corners
Group 1 Glory for Amphitrite!
What an amazing 2 weeks it has been for all of us at Flying Start Syndications. Just when we thought it couldn't get much better than our girl winning the Group 2 3YO Fillies Edward Manifold Stakes at Flemington on Saturday 6th October – she backed up last Saturday to take out the Group 1 Thousand Guineas at Caulfield. And what a win it was!
Craig elected to drop her back to last from Barrier 15 and this was a masterstroke as she had a nice trouble free run in behind the pack.  He angled her to the outside on straightening and she made up many many lengths to defeat a class field of fillies – and was going away from them on the post!
It has been a meteoric rise for this girl from winning a Sale Maiden to a BM64 at Flemington – to now joining the elite class of 3 yr old fillies who have won the Group 1 Thousand Guineas.
The exciting part for her owners – who you can imagine are just over the moon – is that she will just get better!
Darren Weir is taking wonderful care with how he places her and we now look forward to her possibly lining up in the VRC Wakeful Stakes over 2000m on Derby Day at Flemington. She then could be Oaks bound!
Thank you for all the messages of congratulations we have received – we share this with all of our wonderful owners, family and friends.
AMPRITRITE wins G2 Edward Manifold Stakes AND G1 Caulfield Thousand Guineas!
Winning Owners of Amphitrite Syndicate – Chump Change
Cox Plate 2018
Syndications
Upcoming Runners
Punters Corner
Amphitrite victorious at Flemington!
So exciting to see this beautiful filly line up at Flemington on 26th September and an even bigger thrill to see her 'beat the boys' and win impressively.
She was a bit slow to begin but she was set up to run well after Craig Williams managed to get her into a great spot in the middle of the field with cover. To be fair to her though she still had to take the run when it came and when it did she continued building her way through to the line and went on to record a strong victory.
She's returned in fantastic form this preparation and it was great to see that she can measure up against a better level of opposition.
She's come through the run in fine order and we can't wait to see her line up on Saturday in the Group 2 3YO Fillies Edward Manifold Stakes over 1600m at Flemington.
Bold Chance wins at only his 2nd start for the Flying Start team!
What's In A Name?
Syndications
Upcoming Runners
WINX Cap Competition
Punters Corner
Amphitrite shows her class at Sale!
What a thrill for us all to see Amphitrite win so impressively at Sale on 9th September. She jumped well and jockey Craig Williams let her settle to the back half of the field. She travelled nicely into the race before getting held up and striking interference early in the straight. Once clear and balanced up she showed a great turn of foot to race clear for a comfortable victory on the line.
The great part about the win was that she was still green, got held up & lost momentum approaching the turn and still has plenty of improvement to come. It was a good ride from Craig to not panic, then give her the extra room she required to show her best and let down in the straight.
Darren Weir has taken his time with this stunning daughter of Sebring and we can't wait to see what she can produce during the Spring!
Dreamscope returns in style!
Stable Stars
Flying Start Syndications Social Punter's Club
Syndications
Upcoming Runners
Punter's Corner
A Race for the Ages! The Boss goes down by a 'lip'!
Last Saturday saw the running of a 2050m Open Handicap at Doomben which can often be one horse affairs but in this case it was a 2 horse war!
Ruling Dynasty drew a sticky gate but jumped well. He sat outside the lead of his younger stablemate Ingeegoodbe and they raced in this pattern for the entire journey. Jimmy Orman rode him a treat and it was a dour struggle all the way down the straight. In the end it was the 3kgs difference that saw our boy go under by a nose.
Since joining Rob's stable 'The Boss' has amassed prizemoney of $114,000 for his lucky owners. This is from just 5 starts where on two occasions he's been beaten by a nose.
Aren't they having a great ride!
Congratulations to the Heathcote stable for training the quinella in the race – just wish our guy had a bigger nose!
Ruling Dynasty will now have a well deserved break at Washpool Lodge.
Well done to The Boss and all his connections!
Seeingisbelieving kicks off his campaign at Newcastle
Stable Stars
Upcoming Runners
Syndications
Punter's Corner
The Boss a breath away from making it 3 wins from 4 starts!
Another super honest run from Ruling Dynasty to run 2nd last Saturday in the 2200m race at Doomben. Jimmy Orman had him travelling comfortably throughout the run and he just got out sprinted on the line. He is holding onto his form well and Rob has a 2000m race penned in for him next Saturday at Doomben. Win, lose or draw he will have nice break after that run to recharge the batteries after what has been a spectacular campaign!
Well done to all his connections!
August 1st – It's somebody's birthday?
Our Flying Start Syndications Team
Flying Start Syndications Sunshine Coast Race Day 
Subzero – 30 years young!
Upcoming Runners
Syndications
FSS Celebrates 400 followers on Instagram
Punter's Corner
The Boss makes it back to back Saturday City Wins!
It doesn't get much better in the racing game than to be able to have a back to back Saturday city winner and that's exactly what the big boy Ruling Dynasty has delivered for his ecstatic owners.
It was such an exciting race and I imagine all who watched it were a little 'hoarse' at the end from cheering.
Jim Byrne had him relaxed beautifully in the race and it was great to see the horse stretching out and really wanting to hit the line and putting his nose out when it counted!
Onwards and upwards for this guy while he is racing so well with his next assignment to be the Listed Sky Racing Tattersall's Mile on Saturday 21st July.
Stable Stars
The owner of this overseas raider reckons he's got the Melbourne Cup won!
Upcoming Runners
Syndications
Celebrate 400 Instagram Followers and Win!
Punter's Corner
The Boss is Back in the Winner's Stall
Well done to all owners on a well deserved victory by Ruling Dynasty last Saturday at the Sunshine Coast. A city win worth $42,700 to the winner so the 'Boss' has done us all proud to grab a city win. A great ride from Jimmy Orman & Rob and his team have worked hard behind the scenes to get the horse right.
After jumping well Jimmy restrained the 'Boss' to have him in a good spot midfield and ready to pounce. While running along at only a fair speed Jimmy rated him well before looking for runs approaching the turn. He got the gap and drifted away from the fence in the straight as planned before kicking in the straight to hold his rivals all at bay for a strong victory.
We have always had faith that this big boy would make a handy stayer in the Sunshine State and last Saturday's win reaffirmed this. Lots more fun to be had in the coming months as he gets out to his preferred distances.
Congratulations to all his connections.
Stable Stars
What we love about Horse Racing
Horse Racing in Madrid
Upcoming Runners
Syndications
Punter's Corner
Ritchie Runs Them Ragged!
Well done to all owners on a well deserved victory with Ritchford at Ipswich. Ritchy jumped well and after the first few hundred meters went straight to the lead and got a great run in transit. While running along at a good even speed Tegan rated him well before kicking clear in the straight to hold them all at bay for a comfortable victory.
The great part about the win was that we now know that he can run a strong mile and maybe even further. It was a great ride from Teagz to keep him out of trouble and give him the extra room he requires to show his best.
Congratulations to all his connections.
Stable Stars
Profile: Luke Dale
Upcoming Runners
Syndications
WIN a Widden Stud Cap
Punter's Corner
It's an exciting time of year with the Inglis Classic Sales in Sydney
The Inglis Classic Sales kicked off today and Cameron Bennett from Flying Start Syndications is there to select a few quality yearlings for our 'stable'.
Lots of exciting first season sires have their progeny on show so with bloodstock by the likes of Brazen Beau, Deep Field, Dissident and Hallowed Crown, as well as proven sires like Snitzel, I am Invincible and Exceed and Excel there are sure to be some fine specimens to choose from.
The 2018 Inglis Classic Yearling Sale will be the biggest in the company's history with 800 horses catalogued for the first ever auction at the state of the art Riverside Stables complex.
The Classic Sale has produced some of Australia's best Group 1 performers in recent years including reigning Golden Slipper winner She Will Reign and the likes of I Am A Star, Yankee Rose and Extreme Choice just to name a few.
Stable Runners
Stallion Profile: So You Think (Coolmore Stud)
Syndications
House Keeping: Paying Your Invoices!
Punter's Corner
A New Year and a fresh new logo for The Pegasus.
We look forward to bringing you all the latest Stable News as well as industry updates and fun competitions in our 2018 Newsletters.
Flying Start Syndications aim to bring the pleasure of horse racing to as many people as possible and those of you already involved know that the costs can be much lower than people think. Many of our owners race a number of horses with us and have introduced their friends and family to the ownership experience.
If you know of anyone who is thinking of 'dipping their toe' into racehorse ownership, encourage them to join our mailing list. They will then receive all the latest news on available syndications as well as our fortnightly Newsletter.
Above Authority salutes at Ballarat
Stable Stars
Stable Spotlight: Lindsay Park
2018 Yearling Sales
Syndications
Upcoming Runners
House Keeping: Paying Your Invoices!
Punter's Corner
WELCOME 2018!
Happy New Year to you all.
2018 promises to be another exciting year for Flying Start Syndications both on and off the track and we can't wait to to cheer home many many winners.
What a 'Dream' way to end 2017!
Celebrating our Podium placegetters
2018 Yearling Sales
Upcoming Runners
Punter's Corner